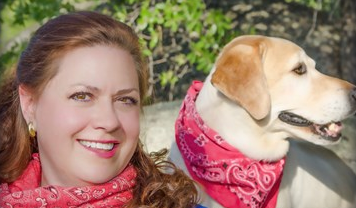 Click here to read about Wendi in REALTOR® Magazine
I've been in the real estate business for over 25 years, selling homes here in Prescott for many years, and have recently moved back after living in Colorado for a while. I've been a mortgage lender and a landlord, and I wrote a real estate column in the Prescott Daily Courier for several years. I love helping people relocate, especially to this beautiful area! Advocating for the best interests of my clients, I enjoy negotiating your sales contract to achieve the desired outcome for both buyer and seller, and then seeing the details of that contract through to a smooth closing.

Animal welfare is a passion as well; several times a year my husband and I foster newborn puppies that are too young to be adopted from the animal shelters or rescue groups. He says we have raised over 220 puppies! I served on the board of a small but amazing rural animal shelter, and we have raised 2 Yellow Labs for Guide Dogs for the Blind. Just as some people tithe to their church, we give a portion of our income to deserving animal welfare organizations.
Real estate to me is more than selling houses; it's dealing with clients during emotional times in their lives, whether you are celebrating an addition to the family or saying goodbye to a loved one. You'll find that I go far above and beyond to take exceptional care of my clients, explaining the entire process and all the paperwork and time frames for a smooth closing. Nurturing long term relationships and earning your trust and loyalty are my goals. Technology gives us terrific tools, but it can't take the place of personal service.
For sellers, I offer an extensive marketing program, starting with precision pricing and showcasing your property for the most exposure to potential buyers. Professional video, staging, and aerial drone photography are just some of the tools I use to promote your property for sale. Constant contact regarding feedback on showings, marketing efforts, and the status of your transaction keeps you the seller in the loop with secure records. Through personal experience, I am familiar with local assisted living and long term care options for my clients who can't stay in their homes, and I can help with finding the right vendors for organizing, downsizing and moving.
For my buyer clients, I go over the entire process with you, provide all the information that you need to make a decision on what to offer, and will refer you to the most respected mortgage lenders, title companies and home inspectors, some of whom I have worked with for decades. Whether you are looking for the perfect home to suit your lifestyle, or your first or tenth investment property, I will carefully guide you through the process of acquiring your real estate.
What Matters to You.... Matters to Me!